Imagen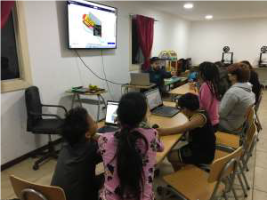 Body
"3D PRINTING WORKSHOP"
Girls and boys from La Florida, Santiago, get instruction in 3D printing.
The CAF supports this project in its second year, because it promotes technologies to a disadvantaged community with no access to this area of education.
Fundación Vida Compartida will offer 16 boys and girls between the ages of 5 and 15, who come from the poorest households in La Florida in Santiago, 3D printers' educational workshops.
There will be two groups by age (5-9 and 10-15 years old) working weekly for 6 months and ending with an exhibit of their work. During this time, they will receive instruction from programmers in electronics and robotics, will use computational language, specialized design software, and use practical and ludic exercises to print their objects.
This project will receive a contribution of $4,000.