Imagen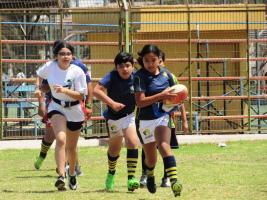 Body
"I HAVE FUN WITH RPT II"
Boys and girls train in "contactless" Rugby.
After the great success of this program last year, the CAF decided to continue bringing this sport to three new teams in Arica (North of Chile). This project aims mainly at reactivating physical activities for boys and girls aged 10 to 12 years old in three public schools in Arica, bringing this sport of "contactless" Rugby (no throwing) by the sport teachers already certified by RPT Chile.
The practice of RPT promotes an integral development of Mind + Body + Spirit among the children who practice it, as well as the values of passion, trust, teamwork, and respect. The training will last 10 weeks, and the three teams will receive all the necessary equipment. They will close with competitive games with the Rugby League of Arica.
The Chilean-American Foundation will contribute $4,000 to this project.