Imagen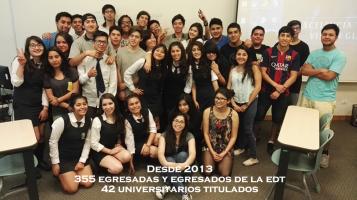 Body
"SCHOOL OF TALENT DEVELOPMENT"
Students get academic support scholarships for a slot in a university.
The CAF continues its alliance with the School of Economics and Business (FEN) of the University of Chile supporting Junior year students selected among 26 technical-vocational high schools in Santiago, Aysén, and Viña del Mar, with good academic performance and from economically vulnerable households.
They will receive free academic support for two years at the EDT while preparing the university application test to gain a slot at a university and graduating from high school. By 2022, more than 42 students graduated from this program have gone on to obtain their professional degree from various universities.
The CAF will support this successful program with the FEN with a contribution of $13,500.